ATM2YOU review
ATM2YOU Review
Atm2you

new generation of money making
What You have to do ?
They have made a plugin which would show a small banner on your webpages sometimes while you are surfing. You need to install their plugin in the chrome or firefox or safari.​
Every banner (468 x 60) that displays on your browser from them pays you 0.003$ .
Special Tip: If you are running
or teslahits on vps or something , just install this on that chrome browser.  Or even if you install on your browser it's not really that disturbing as it does not shows ads very often
You Do not need to click or view ads necessarily ,
it's all passive you get paid just for display of ads.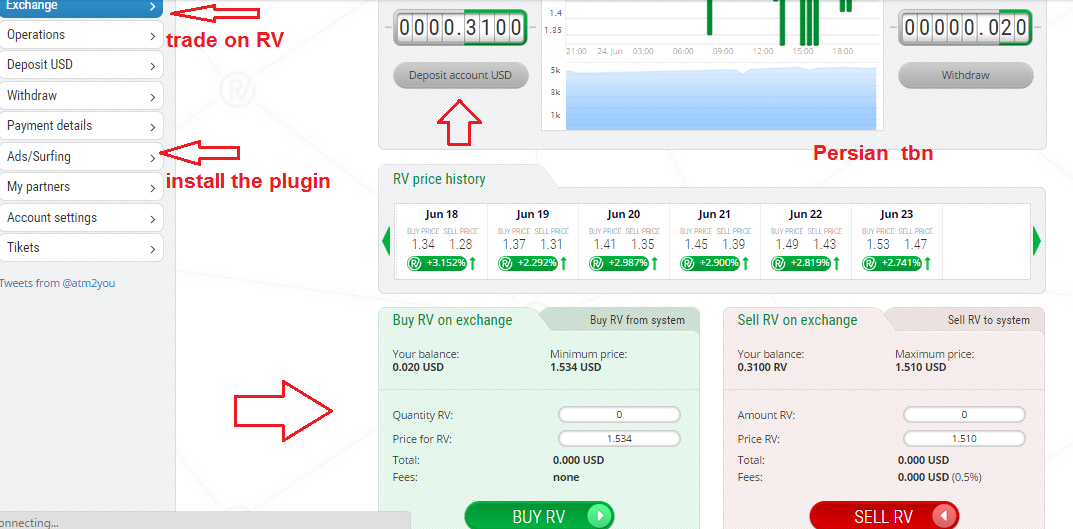 How to make big Money ?
They have internal Currency RV.
You can buy or sell it on their internal exchange.
RV is almost guaranteed to increase in price each day.
You can just buy RV with the money you earned and then sell it a few days later.
Heavy Profits are awaiting.
All Payments are automatic. 1$ Minimum
Payeer, Bitcoin,Payza,Perfect Money and Litecoin
So no waiting for confirmation or days, Start today and get paid quickly.
My Review on this:
This is basically a innovative thing in such traffic Selling. We have seen
other such programs paying like for displaying banners on user screens.
They have added a revenue sharing in it in a unique way through exchange.
In my opinion this should last at least a year or more owing to
the work put into making it and all the plugins it is in safe hands.
In all this could be next Paidverts rather than the cheap paidverts clones out there.
I have personally added 20$ in to and bought a few RV's would keep you people updated on it.
Proof :
---